Guilin Xingan Merryland Resort
Guilin Xingan Merryland, built in 1997, is located in Xingan county which is 60 kilometers northeast of Guilin city proper. It covers an area of 60 hectares and consists of four parts – Merryland Theme Park, Merrland Hotel, Forest Resort Village and Golf Course.

Merryland Theme Park: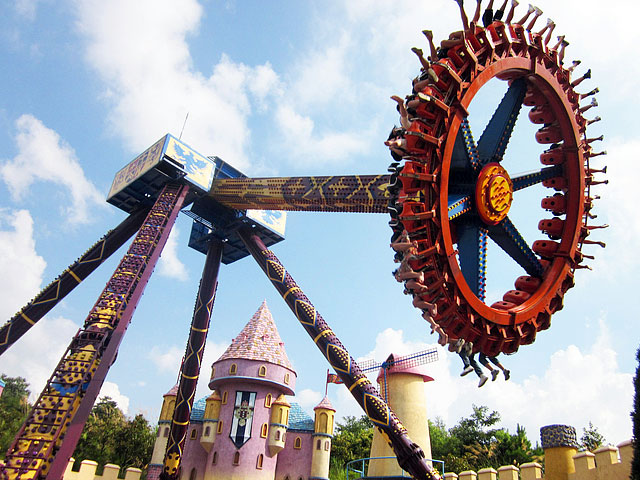 It consists of five sections with their own themes, they are: China Merry Town which is full of ancient Chinese style architectures; American Wild West which brings you into a time tunnel and back to the 18th century in America; Dream World; Pirate Village in which you can go close to the pirates and take the exciting pirate boat; and South Pacific Area which is full of tropical plants, aboriginal stone carvings and the small thatched houses. This park is a great and exciting place for the families with children.

Forest Resort Village: It is accommodation place in Merryland and consists of two areas: the Wooden Houses Area and the Camping Area. In the Wooden House Area, totally 60 two-story wooden houses are standing, these wooden houses are good choice for families. And in the Camping Area, totally 160 camping tents are available with sleeping bags and sunshades, and the 5 big camp fire areas allow you enjoy your barbecues and fireworks with your family and friends in the evening.

Guilin Merryland Resort Hotel has 371 guest rooms. The hotel has 7 food and beverage outlets featuring the Cathay Chinese Restaurant serving Cantonese and Sichuan dishes and Dim Sum at lunch; Camel Bar for garden views and live music each evening. Guilin Food Street offers spicy local Guilin cuisine; Atrium Coffee Shop for breakfast and international buffets; Studio Cafe serving casual bar snacks to Asian and Western Cafe cuisine. Health facilities include a gymnasium, sauna, whirlpool, outdoor swimming pool and massage service available. Meeting and Banquet rooms are available accommodating from 10 to 400 guests. Around the hotel, there is plenty to see and do from lake cruises to cave carvings, parks to night markets, and museums to local villages.
Guilin Merryland Golf Club
: Located in Xingan County that is famous for the Ling Canal. The Ling Canal was built in 214 B.C. in Qin dynasty by the order of Qin Shihuang (the first emperor of Qin dynasty), the same emperor who created two miracles – the Great Wall and the Terracotta Warriors.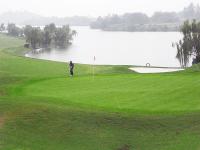 Merryland Golf Club is about 1.5 hours' drive from the city proper of Guilin. With an area of about 73 hectares, this club has an American-style hilly land golf course up to international standards.
Par 72
Holes 18
Length 7073 yards
Designers Mr. Golden Louise (the United States)
Top Attractions in Guilin