Sanjiang is not unfamiliar to the public, however, do you know where did the Sanjiang County originate? In fact, Danzhou is the birthplace of the old Sanjiang County. It is about 55 kilometers to the south of Sanjiang County of Liuzhou City, with a total area of 1.6 square kilometers. The multi-ethnic villages has Miao, Yao, Dong, Zhuang and Han five ethnic groups and as a total of 1100 people live there. This small island town is famous for beautiful landscapes, historical relics and ancient residential houses.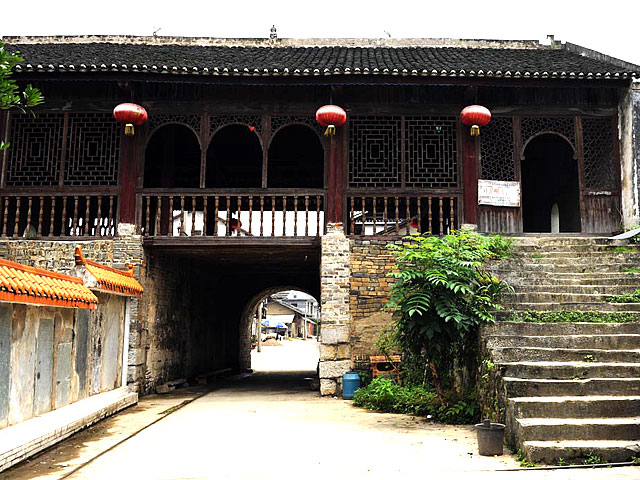 Danzhou Ancient Town is called the "water of the Island" as it is surrounded by Rongjiang waters. The lush lawn, bamboo grove, ancient banyan, riverbank and unpolluted waters, fresh air, all of these form a peaceful environment here, making it a perfect secluded resort from the bustling world. The pomelo forest is another attraction in Danzhou Ancient Town with some old pomelo trees which are more than 200 years.
Built in the Ming dynasty when it was called Huaiyuan county, Danzhou Ancient Town has a history of 400 years. The famous historical and cultural relics in the village are the East Ancient Gate, North Ancient Gate, Guangdong and Fujian Hall, the ancient city walls, the site of the former county government, Ming and early Qing Dynasty houses. The original ancient city wall was built in Ming Dynasty in a length of 879 meters, in defense of enemy troops and heavy bloods. The North Gate of the wall is well-preserved and some historical events can be learned from the stone tablets.

Top Attractions in Guilin