Besides the spectacular Longji Rice Terraces, Longsheng is also well-known for its colorful ethnic culture. The cuisine in Longsheng is featured with various and strong flavor of the local ethnic minority groups. A special local dish - rice steamed in bamboo, of Ping'an Zhuang village, would be highly recommended.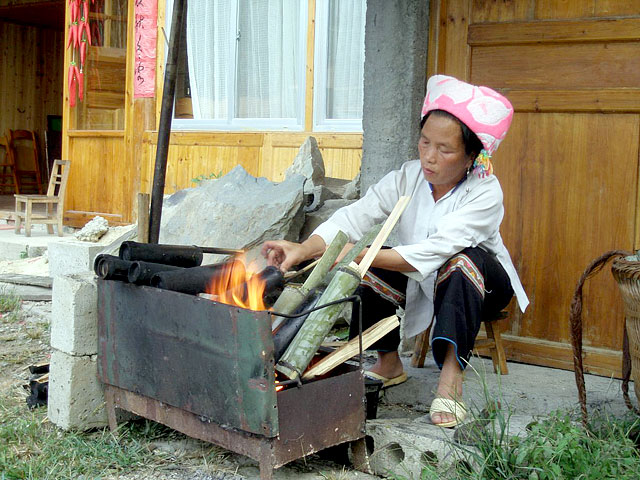 Ping'an is a Zhuang minority village high up in the mountains surrounded by spectacular Longji Rice Terraces. The lcocals make rice as their staple food, and cook it in a very special way. The bamboos are cut off several bamboo tubes around 35 cm, with both ends closed. Then, people would make a hole in one end with an electric drill. Via the hole, they put the rice, some meats, beans or other materials into the bamboo tube. Finally, The bamboo tube is sealed and placed on the fire to cook.

Bamboo tubes would be turned over from time to time to be evenly heated. It takes over 30 minutes for the rice to be done. Now you may ask, how to remove the rice from the bamboo and eat? People would split the bamboo tube in half, and the dish be served hot. Rice has a great subtle flavor enhanced, as it has been steamed inside the bamboo.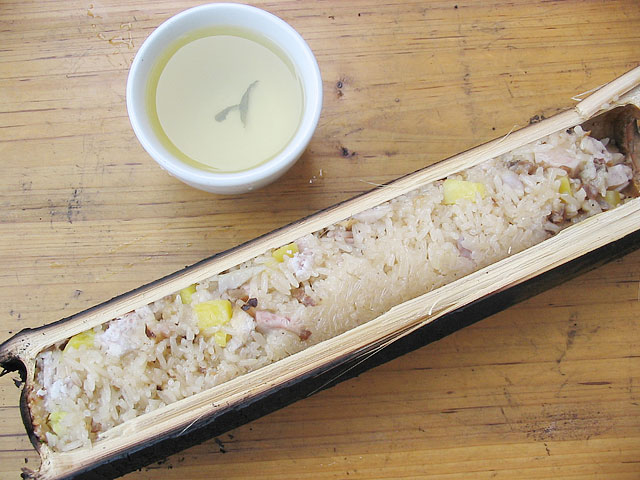 For a Longsheng trip, Make sure to try the rice steamed in bamboo. It's very authentic and made in a most natural way possible.